As you embark on this journey through the thriving landscape of cyber security, prepare to navigate through its multiple facets. This thought-provoking read, "Exploring Cyber Security: Types, Threats, and Strategies", ingeniously explains the abstract concept of cyber security, its various forms, the potential threats we are bound to encounter and potent strategies to keep them at bay. Undoubtedly, your mind will be filled with key understandings and your curiosity satiated.
Cyber security is part of the global agenda. Nowadays, no one is safe from being a victim of a cyberattack; companies, government, hospitals, financial institutions, SMEs, and end-users are exposed to threats on the network.
Understanding the importance of IT security gives us a broader perspective on the strategies, plans, and best practices that should be implemented in organizations.
That is why we are going to talk about what cybersecurity is, the types of IT security, the most common cyber attacks, and strategic solutions.
What is cybersecurity?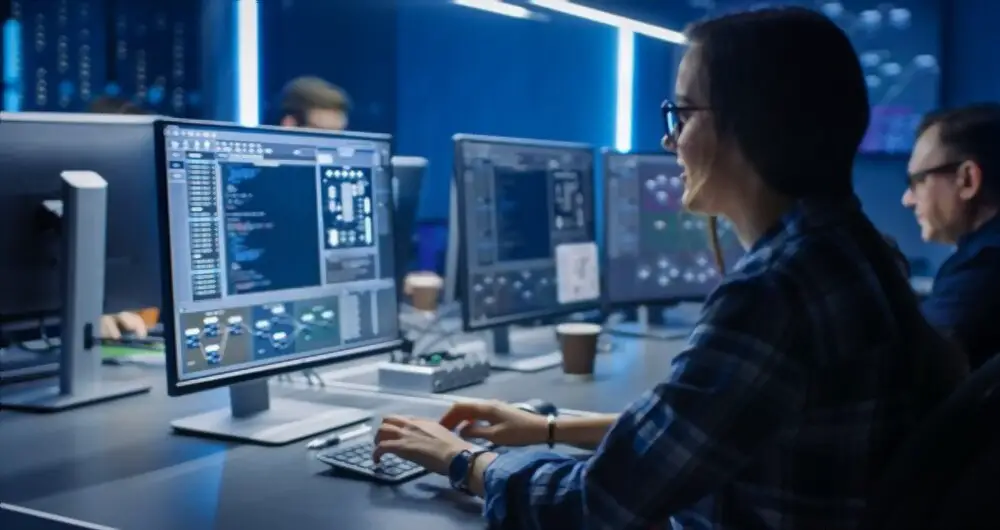 Cyber security, a field that has become increasingly relevant in this age of technology, involves the measures taken to protect internet-connected systems, including hardware, software, and data from digital attacks. This introduces a sort of fortress-resilience to these systems, enabling them to resist malicious attacks, threats and intrusions.
Definition of Cyber Security
At its core, cyber security refers to the body of technologies, processes, and practices that are established to protect systems and networks from damage, unauthorized access, or hacking. This includes a wide range of strategies and solutions, from virus protection to high-level encryption and secure network architecture.
Importance of Cyber Security
Given the proliferation of the digital world in all spheres of life, cyber security has become crucial. It protects all categories of data from theft and damage, spanning personal information, sensitive data, government, industry, and many others. In an increasingly virtual world, a breach in cyber security could mean significant financial and personal loss, a risk that necessitates strong security measures to be in place.
Brief history of Cyber Security
The evolution of cybersecurity provides a broader context of what the transformation to the digital world was like and the risks that came with this change.
The first hacker in history was Nevil Maskelyne. In 1903, he intercepted the first wireless telegraph transmission, exposing the vulnerabilities of this system developed by Marconi.
John Draper was the first cybercriminal, better known as "Captain Crunch". Draper discovered that the sound emitted by a whistle that was given away in the "Cap'n Crunch" cereal boxes, could fool the signal of the telephone exchange and thus be able to make free calls.
In the 1970s, the first malware in history appeared: Creeper, a program that replicated itself. This malware displayed the message "I'm a creeper, catch me if you can!". From there, the first antivirus called Reaper was born, whose function was to eliminate Creeper infections.
Over the years and with technological advances, networked information became increasingly valuable and important to both organizations and cybercriminals.
Malware in the 1980s increased its presence and at the same time, more efficient antivirus software was developed. Today, an endpoint detection and response (EDR) platform is used to protect computers from malware attacks due to its evolution.
At the end of this decade, Kevin Mitnick used social engineering to gain access to personal and confidential information; this type of cyberattack, which began to be more widely used at that time, is still one of the most popular methods of breaching a company's assets; however, it can be prevented and reduced with a good strategy, employee training, and security awareness protocols.
The regulation of the Internet is a huge challenge due to its international nature and the variety of its content. In the early 90s, the need to deal with cyber-attacks became a topic of international discussion, the lack of knowledge about cyberspace, security measures, jurisdiction, and competence affected mainly developed countries, where the use of technology and the abuse of users affected the economy and society.
The first actions to create legal mechanisms to deal with cybercrime were local. In 1986, the Computer Fraud and Abuse Act was created in the United States, but its capacity was overwhelmed by the technological transformation.
In 1995, a committee of computer crime experts was formed in Europe to work on strategies to counter Internet attacks. Convinced of the need to implement a criminal policy to protect society against cybercrime and the importance of strengthening international cooperation, the Budapest Convention was approved and signed in 2001 and is now comprised of 56 countries.
Types of Cyber Security
Network Security
Network security is used to prevent unauthorized or malicious users from getting access inside a network. It helps to secure the network infrastructure, including protecting the hardware and software functionalities of a system.
Cloud Security
Cloud security offers a set of policies, controls, and services that protect cloud-based systems, data, and infrastructure. This type of security is crafted to maintain a high level of protection for data, applications, and the infrastructure in cloud computing.
Application Security
Application security incorporates measures or counter-measures taken during the development lifecycle to protect applications from threats that can come through flaws in the app design, development, deployment, upgrade, or maintenance.
Endpoint Security
Endpoint security refers to securing endpoints or entry points of end-user devices such as computers, laptops, and mobile devices from being exploited by malicious actors and campaigns. Essentially, it's a centralized approach to protect a network when accessed via remote devices.
Data Security
Data security refers to the process of protecting digital data, such as those in a database, from destructive forces, unauthorized access, and harmful actions like cyber-attacks or data breaches. It encompasses a range of strategies used to safeguard data privacy.
Identity and Access Security
Identity and access security involves ensuring that the right individuals have access to the right resources at the right times for the right reasons. It involves technologies to ensure the secure and appropriate administrative of user identities and access permissions.
Threats in Cyber Security
Phishing Attacks
Phishing attacks are a method of stealing confidential information by sending fraudulent messages to a user. These messages appear to be from legitimate sources and ask for sensitive information, like login credentials and credit card numbers.
Malware
Malware is any software intentionally designed to cause damage to a computer, server, or network. This threat to cyber security comes in numerous forms, such as viruses, trojans, and spyware.
Ransomware
Ransomware is an advanced type of malware that restricts access to the system, effectively 'locking' data and demanding a ransom to remove the restriction.
Social Engineering
Social Engineering is an attack that relies largely on human interaction and often involves tricking people into breaking their own secure procedures. cyber criminals impersonate trusted figures to manipulate employees into giving up confidential data.
Advanced Persistent Threats
These are stealthy and continuous attempts to infiltrate a network to extract sensitive data. Advanced persistent threats (APTs) covertly gain access and remain inside the system undetected for a long period.
Denial of Service Attacks
Denial of service attacks are a strategy used by cyber criminals to make a machine or network unavailable to its users. They overwhelm the system's bandwidth causing it to slow down or crash.
Key Concepts in Cyber Security
Firewalls
Firewalls are an essential part of network security and act as the first line of defense in network security by monitoring and controlling network traffic. They establish a barrier between secured internal networks and outside networks.
Encryption
Encryption converts data into a code to prevent unauthorized access. It is one of the most effective ways to secure data in transit, offering layers of protection to prevent interception.
Two-factor authentication
Two-factor authentication, also known as 2FA, provides an additional layer of security that requires not only a password and username but also something that only the user has access to, like a piece of information or a physical device.
Intrusion detection systems
Intrusion detection systems (IDS) monitor networks or systems for malicious activities. The primary function of an IDS is to identify suspicious activity and alert the system or network administrators about the potential breach.
Cyber Security Regulatory Frameworks
Data Protection Laws
Data protection laws are legislation that provides a framework for proper handling, processing, storage, and transportation of personal data. These laws are designed to protect the privacy and integrity of personal data and reduce the risks of data breaches.
Compliance Regulations
Compliance regulations are strict guidelines that organizations must follow to secure and protect data. Regulations can vary by industry and by type of data held. Non-compliance can result in hefty fines and penalties.
Industry-Specific Regulations
Industry-specific regulations are designed to provide guidelines for protecting and securing data within specific industries, such as healthcare, financial services, and education. These regulations can be complex and vary greatly from one industry to another.
Effective Cyber Security Strategies
Risk Assessment
Risk Assessment is the process of identifying and analyzing potential issues that could negatively impact an organization. It is critical in making informed decisions on how to best mitigate risks.
Incident Response Planning
An Incident Response Plan is a set of instructions to help detect, respond to, and recover from network security incidents. These plans are essential for minimizing damage and recovery time following a security breach.
Regular Audits
Regular audits can help ensure your organization complies with information security standards, laws, and regulations, while also identifying potential security gaps and areas for improvement.
Training and Awareness Programs
Training and awareness programs are a critical component of a solid security strategy. By ensuring employees are aware of how to recognize and avoid risks, a company can significantly reduce its exposure to cyber threats.
Patch Management
Patch management is essential to keep systems updated and secure against potential vulnerabilities or breaches. Regularly scheduled patching can prevent exploitation and maintain system integrity.
Role of Artificial Intelligence in Cyber Security
Use of AI in Threat Detection
AI can analyze user behaviors and patterns to effectively detect potential threats in real-time, thereby reducing the risk of breach or attack.
AI in Cyber Security Automation
AI can automate routine tasks, such as monitoring and analysis, freeing up time for IT teams to focus on more critical tasks. It can also identify patterns and links between threats, making it easier to anticipate and mitigate future attacks.
Role of AI in Cyber Defense
AI in cyber defense can detect malware, predict and mitigate future attacks, and enhance response times to security incidents. It is instrumental in creating a proactive security stance instead of a reactive one.
Cyber Security Challenges
Limited Security Budget
Many organizations face budget constraints that limit their ability to implement comprehensive security measures. This can lead to vulnerabilities within the organization's network.
Lack of Skilled Professionals
The cybersecurity field is experiencing a shortage of skilled professionals. This shortage makes it difficult for organizations to adequately protect their systems and data.
Emerging Technologies like IoT
The rise of emerging technologies, such as the Internet of Things (IoT), increases the complexity and scope of networks that must be secured, creating new challenges for cyber security.
Complexity of Cyber Threat Landscape
The cyber threat landscape is constantly evolving, making it difficult for businesses to stay abreast of the latest threats and to implement effective defenses.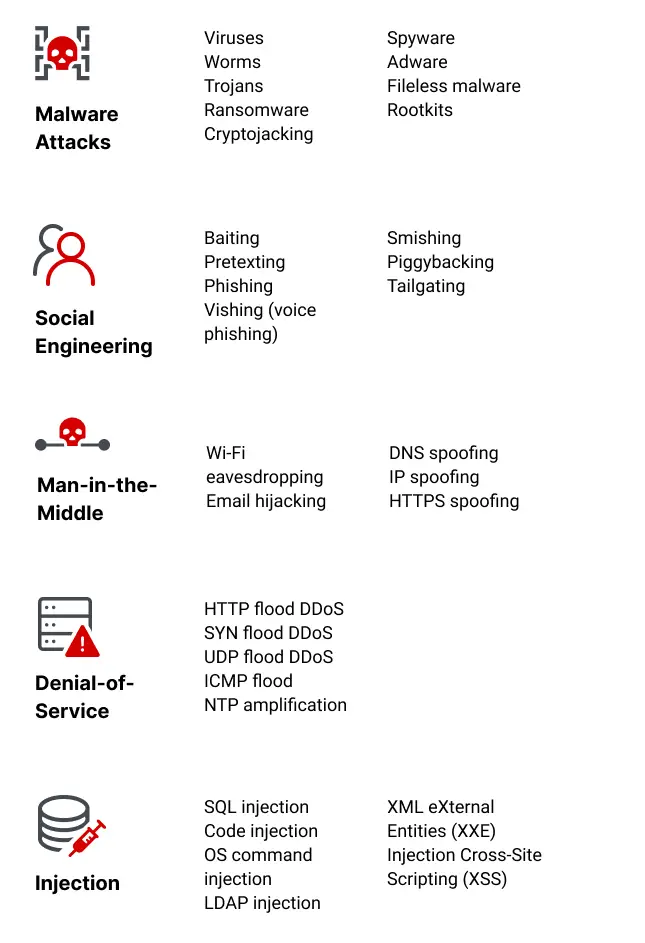 Future of Cyber Security
Advancements in AI and Machine Learning
The advancements in AI and Machine learning are helping to improve threat detection and response times. These technologies can learn from previous incidents and improve their detection algorithms for future threats.
Rise of Quantum Computing
Quantum computing could create new forms of encryption that are much harder to breach. However, it could also pose threats as it might be used to break existing cryptographic systems.
Move Towards Predictive Security Measures
There is an increasing trend toward predictive security measures. This approach uses machine learning and AI to predict potential threats before they occur.
Recommended Cyber Security Certifications
Certified Information Systems Security Professional (CISSP)
This certification is recognized globally and validates a professional's knowledge and expertise in various cyber security areas.
Ethical Hacker Certification
This certification educates professionals to think like hackers so they can best mitigate potential threats. It is often viewed as vital for those responsible for a company's vulnerability management.
Certified Information Security Manager (CISM)
This certification focuses on information risk management and the development of an information security program. It is perfectly designed for IT security management roles.
CompTIA Security+ Certification
This baseline cybersecurity certification is globally recognized and covers the essential skills for IT security, including threat management, intrusion detection, risk identification, and mitigation strategies.